GET YOUR HAIR BRAIDED WITHOUT LOSING YOUR HAIR!!! Quality hair care for all hair types!!! Over ten years experience.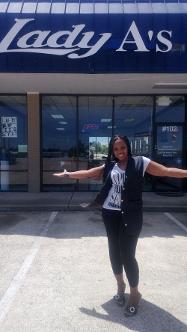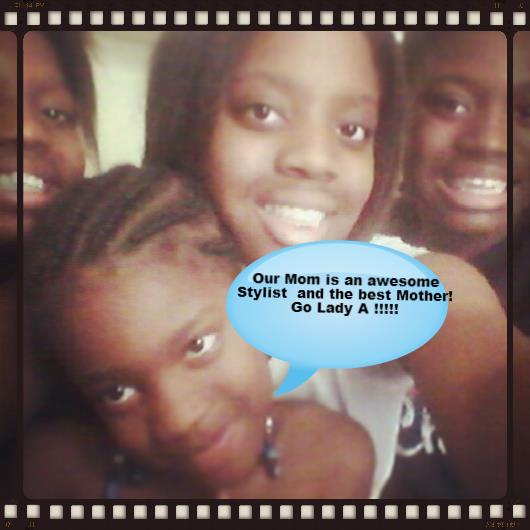 IS THIS A BIG STUDIO
No..We are a small team here but together we all get the job done! We are growing and changing for the better everyday.
HOWS THE ATMOSPHERE/ WHAT TO EXPECT
At Lady A's Hair Studio we work in a professional, clean & fun atmosphere. We have clean Music and TV shows playing. Sometimes we play movies for our clients while they are receiving long services.
WHAT IF MY HAIR TYPE IS A DIFFERENT TEXTURE
NO PROBLEM!!!
Black, Caucasian, Hispanic, Asian Or mixed hair textures are all welcome (All Hair Types). If your looking to receive excellent hair results along with outstanding customer service, then this is the right shop for you" We would love to be your new or Second choice for all your hair needs.
(Get your hair braided without the fear of loosing your hair!!! We take pride in our clients hair!!! Remember your edges are safe with us.)
Welcome To Lady-A's Hair Studio Website.mp3
Click play button to STOP or PLAY music
Here at Lady A's we are proud to be the #1 APPOINTMENT based Hair Studio providing quality hair weaving and braiding services to: (Humble, Atascocita , Kingwood & Houston) areas.
We welcome all new clients to come and experience a healthier braiding & weaving experience.
At Lady A's we care & have respect for our clients and their hair! Get your hair braided without the fear of loosing your hair. (Your Edges are safe with us!!!)
House of Crochet Braids & Weaves!!!
Let us slay your Crochet!!!

True Appointments!!!
No long wait's!!!
No rushing!!!
NEW WALK IN / DISCOUNT DAY IS WEDNESDAY!!
WALK INS ARE NOW ACCEPTED AT LADY A'S,ON A FIRST COME FIRST SERVE BASIS, * CLIENTS CAN STILL BOOK APPOINTMENTS FOR A GUARANTEED SPOT Every Wednesday is our DAY 4 you 2 SAVE-- $15 OFF THE REGULAR PRICE OF SELECT BRAIDS AND WEAVE SERVICES PRICED OVER $100. *CALL FOR MORE DETAILS
WE THANK YOU IN ADVANCE FOR YOUR SUPPORT!!
WHAT MAKES US DIFFERENT
At Lady A's we provide a professional hair service in braids and hair weaving. We care about the growth, health and beauty of our clients hair.
I, Mrs. April (Lady A ) specialize in Hair Weaving and Braiding Services and also have a background as a full cosmetologist as well. I have been in the hair industry over 15 years and I am continuing to grow and improve my education for my clients. Lady A's Braids and Weave's Hair Studio is a very unique place. We differ from other braiding studios in many areas. We were very excited to be the first BLACK owned braiding and weave shop in the Humble area! At Lady A's, we listen to, value and respect all of our clients. We put clients needs and concerns for their braiding services first. We offer conditioning treatments and advice to help with the health and growth of each clients hair. We prefer working by appointments to prevent long waiting. At Lady A's our braiding and weave specialists will continue education often to provide professional hair services for all clients. I thank God for the opportunity he has blessed us to provide quality/ healthy braiding service. WE WELCOME ALL NEW CLIENTS!!!!
SPECIAL NEWS
Share your blessings, by being a blessing!!
When the HOLIDAY SEASON'S arrive we LOVE to give back to our community!!! So we ask if all clients could have a HEART and Donate any SUM that you possibly can so that we can help the FAMILIES in need.
THANKS in advance!!!
LADY A'S BRAIDS & WEAVES
We're Closed Sun-Tue/ We're Here For You Wed-Sat.
Welcome to Lady A's Braids & Weaves....."Not your Average Braiding Shop"
In need of better natural hair care products that actually work and don't just weigh down your hair?
Well We Have It!!! OUR Hair Care PRODUCT LINE!!!

LADY APRIL'S Professional Hair Products (NOW AVAILABLE!!!) EXCLUSIVELY, HERE AT LADY A'S BRAIDS & WEAVES STUDIO.
Check it out on our PRODUCTS and SERVICE page.
* Come shop our hair products and other beauty items that's only available at Lady A's Hair Studio in Humble, TX*
APPOINTMENT/SERVICE QUESTIONS/ANSWERED BELOW
1. Do we offer all braiding services?
2. Do we offer services listed on our page only?
3. Do we ever run behind schedule?
We try our best to be on time to start each appointment. Sometimes we can run into unexpected problems as any business can. If the clients tend to run behind it could push us behind on the next client. We ask that clients always call if running behind or just to please be on time. If there is any reason we are behind schedule we will always give the next client a courtesy call or text explaining that we are behind and need to push them back a little. In that case, we will offer a discount off that clients service when they come in. We do ask clients to be patient and respectful in that situation if this ever occurs, but its not often. Sometimes we work with young kids and we may be a little behind if they are not sitting well. We are as patient and as gentle as we can be with younger children. We do try our best to prevent situations such as these. Overall, we try not to have anyone sitting no longer than 10 -15 min of their initial appointment time. Usually your in the chair as soon as you come in or 5 min afterwards!
We will not offer a service that we feel we cannot professionally do. We will be honest up front and do our best to satisfy each client. At lady A's We hire well qualified hair stylists, that truly care about the growth of our clients hair along with beauty!
#1 Black Owned Family Hair Braiding & Weaving Studio
SHOP RULES
Note to All Parents: We are asking parents if you have to bring a small child with you please DO NOT ALLOW kids to tear magazines, spin, play on stylist chairs or run in the salon. We want to provide a nice, safe & comfortable place for all of our clients.
ANYONE NOT BEING SERVICED: Needs to Wait in the waiting area please. Friends or parents are not allowed to sit beside client or stand over and watch stylist while working. Standing in the stylist working area is UNACCEPTABLE.
CLIENTS PLEASE NOTE: If you are over 10 min. Behind your appointment time we can charge a $15 LATE FEE. (After 15 min) we have the right to reschedule or refuse service if it conflicts into another clients appointment (and you will still be charged a fee.)
"WE'RE AN APPOINTMENT BASED SALON" and must stick by a strict schedule and we must honor all clients time and schedule. We know things happen but please be respectful of others time and call ahead. Thank You!!! Mrs. April
DAILY PRAYER: Say This Everyday/ Believe It/ and Be Blessed. "GOD IS GOOD" All The Time!!!
Lord give me peace in the mist of any storm and help me in all areas of my life, keep me from falling father, please guide my path, I know my help comes from you lord...... I Trust You. THANK YOU so much for your love and protection, my family & your strength you give me when I'm weak. Forgive me of my sins and help me to forgive others and become a better person each day I live. I Love You, In Jesus name!!! Amen.
We are growing in the Humble, TX area inviting you to grow with us. Hope to see you soon!!!
ALL HAIR TYPES ARE WELCOMED AT LADY A's THANK'S!!!